Create a new booking
From your Admin area, hover over the 'Bookings' menu and click 'Create Booking'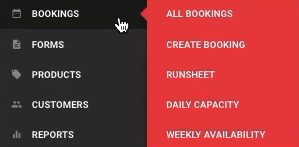 Add contact details
In the New Booking draft type in the following information:
Email* - this is the unique identifier for customer records. If the product sold issues a discount code on the purchase, the e-mail is especially needed to ensure the code can be generated for that customer
Include in mailing list - marketing opt-in (only check this if the customer has confirmed this)
Phone number*
First Name (required)
Last Name  (required)
Postcode
*Please note that it is mandatory to input EITHER email or phone number but we recommend both to reduce duplicate customer records. The first name and last name will generate the Booking holder name
Click 'Add booking holder', this will allow you to:
Change the Booking Name - e.g. John's Party, please note this will show up on the ticket
Add Booking Notes - to add notes for the booking, please note this is only visible in Admin
Add POS Notes - use this text box to make notes visible on POS to your Front of House staff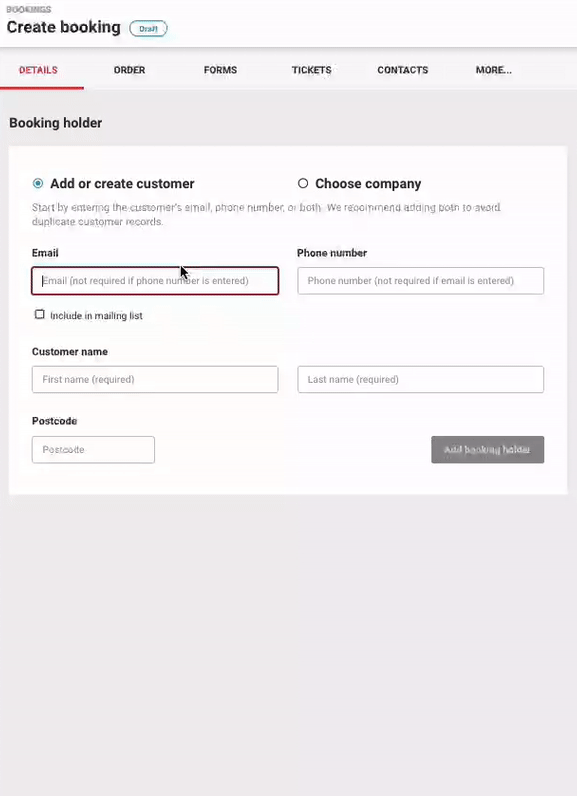 Existing Customer 
If this is a return customer with an existing record, you can type in their details, press 'Enter' on the keyboard and select from the drop-down their record to prepopulate the fields. Click 'Add booking holder'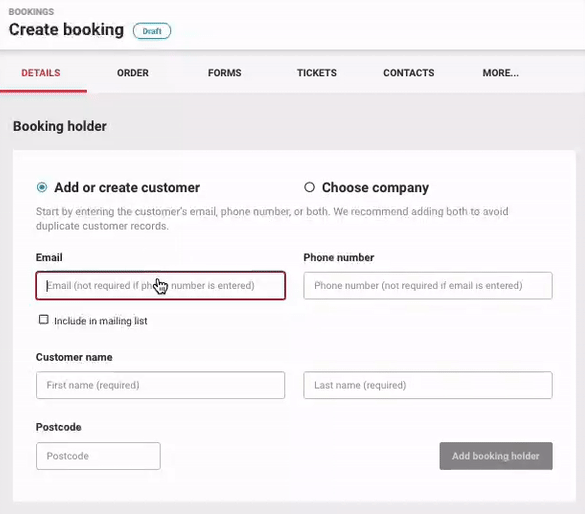 Adjustments
Please note that after clicking Save, there are still options to Edit the Customer Record.

Add Products/Tickets
Refine your search
Click the Availabilities tab on the right and use the Availability selector and filter according to:
When - choose a specific date using 'Today', 'Tomorrow' or 'On' or to select a date range use the 'Between' or 'Within the next' (day/week/month) options
Product - search and select a specific product, or select multiple products, the entire product type or product categories 
Guests/qty - the number of items required
Days - if you select a date range, you can specify which Days of that range you want to filter to
More options - allows you to select Arrival Time with the options of Morning, Afternoon and Evening
Include unavailable products - this shows availabilities that are possibly sold out or unavailable. Please note that selecting this option can lead to overbooking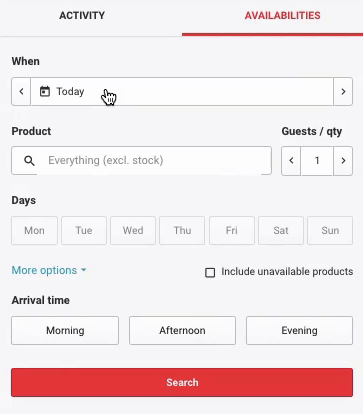 Important: The maximum number of days you can search for is 10 days, if you select Saturday and Sunday for a date range of one month, the search can be performed because there wouldn't be more than 10 Saturdays and Sunday in one month. An error message will display if the search is too broad
Select your products
On the next page, all selected products are displayed and segregated by the day(s), follow these steps to add it to the booking:
Select the product to book in for your customer

The next page will give ticket types and pricing as well as descriptions, availability and time slots depending on the product configuration. You can use the arrows to increase or decrease the number of items for each ticket type. Click the red 'Add items to booking' at the bottom

To add other products or ticket types to the booking, click the back arrow and repeat steps for all booking items required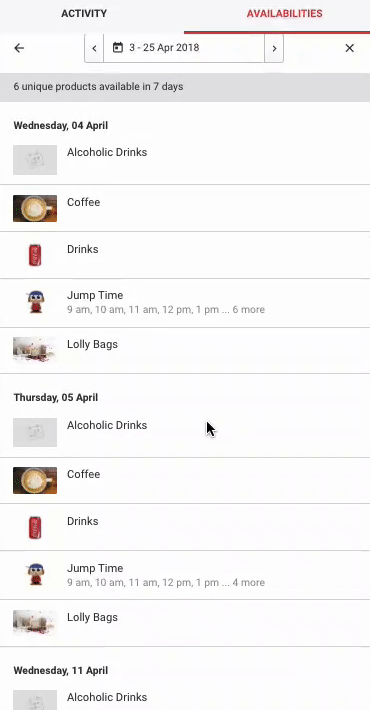 Adjust date filters
To adjust date filters, you can either:
Hit the Back arrow button until you can see the filtering options
Click the Exit [x] button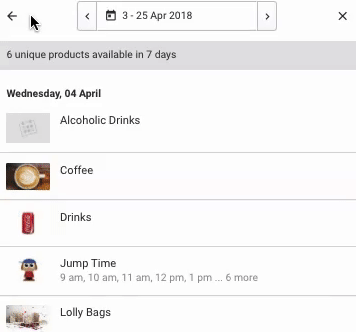 Edit booking items
Click on the Order tab to see all added items for the booking. To adjust the booking:
Click the arrows to increase or decrease order items
Delete entire line items by clicking trash can icon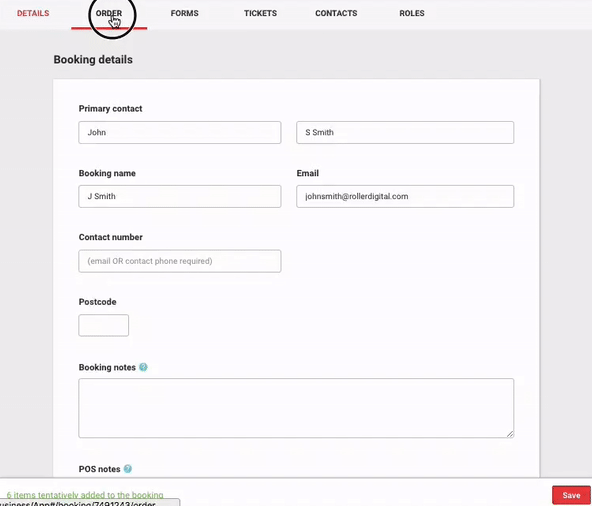 Click Save to turn the draft into a booking. Tip: Always make sure to save changes if you plan to navigate away from the page, any unsaved changes will be lost
Adding Discounts
We highly recommend adding discounts prior to taking payments. To add a discount to a booking, click on the Order tab of your booking:
Scroll down and click the 'Add Discount' button
It is automatically set to Code, if you have Amount and Percentage options activated on your account, you can also select either as an option in the drop down. Type in the corresponding code, amount or percentage
Click 'Add Discount' to add another discount and hit 'Save' when you are done. Discounts are automatically calculated as they are added in and are totalled in a discount summary in green to state how much is taken off the booking
If you need to remove a discount, you can click the trash can icon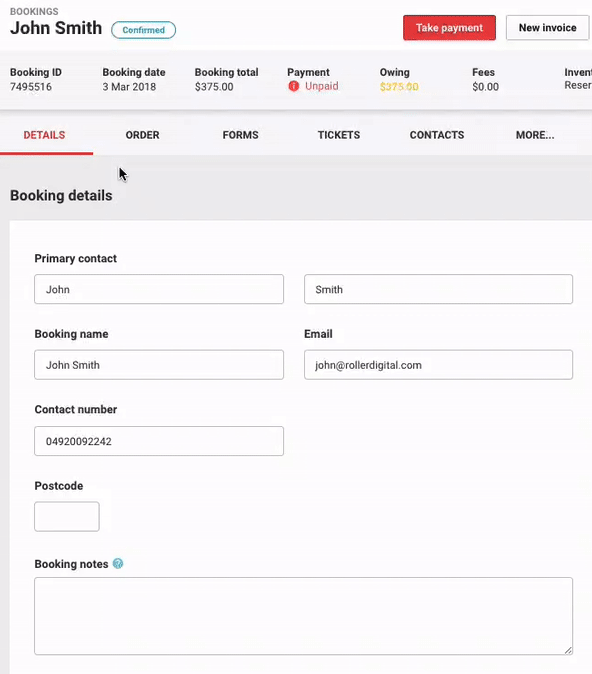 Booking status labels

 - this label is displayed when first creating a booking

 - for all bookings that are confirmed, this does not relate to the payment status

- bookings that are cancelled will release the availability for sale

 - bookings uploaded from a previous booking system
Receiving Payment for a Booking
Once the booking is confirmed, you can take payment. There are two options to do this and both of them can be located towards the top of the booking and in the middle of the screen:

1. Take Payment
These are the following options you can do to make payment:
Credit Card - charged through the ROLLER system
Cash - paid and collected by the venue directly
EFTPOS - paid to the venue via their EFTPOS terminals
Bank Transfer - paid and collected by the venue directly
Gift card - this will deduct from an active gift card in the system, multiple gift cards can be used but have to be added as separate transactions
Complimentary - free of charge, will mark entire payment and is no longer an option once other payment methods have been made
Take payment later
Groupon - Selecting Groupon will prompt the user to enter the Groupon voucher ID. It is important to capture this information for reporting. Click Complete Payment. Note that this is currently in beta and not available to live clients. Please know that this is not integration with Groupon, so staff need to use normal verification processes eg through the Groupon app to validate and check off the Groupons. It is not possible to partial payment with Groupon with another payment type - for example, the scenario to redeem one ticket on Groupon and another on cash is not supported. Each Groupon voucher should be redeemed as a separate transaction. 
The amount to charge defaults to the full amount of the booking. If your product has a set required deposit amount, there is an option to check the 'Pay deposit amount' option which will automatically calculate the amount owed based on the deposit you have set in the product configuration
If you do not want to take the full amount of payment but want to change the amount being collected, you can change the amount in the Payment amount field by selecting the text and typing in a new figure. When deducting from a gift card, it will display the available balance, please note that you cannot deduct more than what is available on the gift card and it's not possible to redeem an expired gift card. Please ensure the figure is correct before clicking the Submit button

From the Payments page, you can also leave notes using the + Add Comment functionality. Click Submit to finalize payments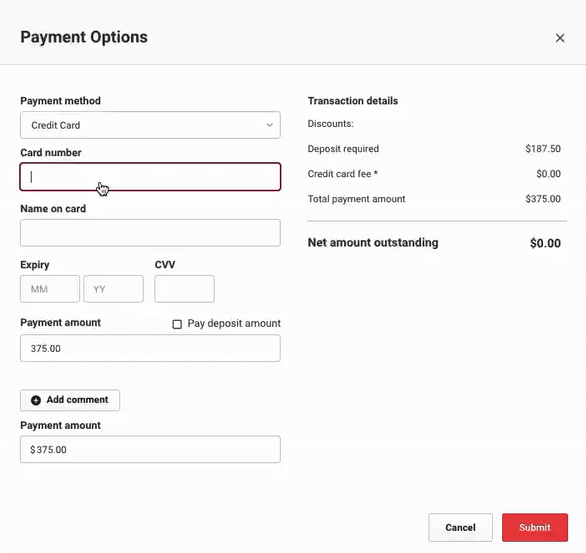 Anytime a payment is taken, the Activity stream will track every action and the booking total will reflect the Booking Total & amount owing. Payment will remain Unpaid until it's fully paid or if a 100% Discount Code is used (in which case it is unpaid but confirmed)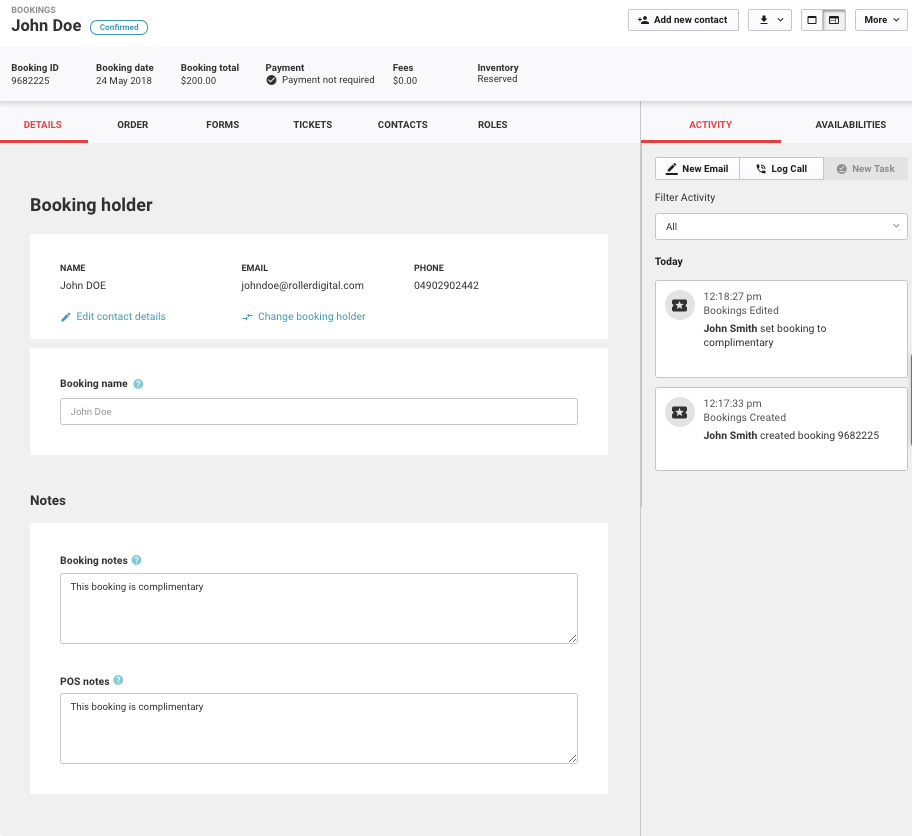 2. Create New Invoice
When you click this button a pop-up modal will appear, whereby you tick all that's applicable with Payment Methods for it to display on the invoice. You can either set it to the full amount or a deposit (dollar amount set by you) and select the Payment due date. Click Preview Invoice
A preview will appear in the Send Payment Invoice pop up of what it will send to the customer, please note any links will only be able to view once the invoice is sent and generated. You can change, add or omit details in all text fields:
the address in customer email (e.g. send to yourself)
the email subject will state "Your Platform Name - Booking Invoice", you can again add more detail such as the booking date 
Body copy will provide more information including payment methods, you can adjust all wording but we don't recommend adjusting anything that is linked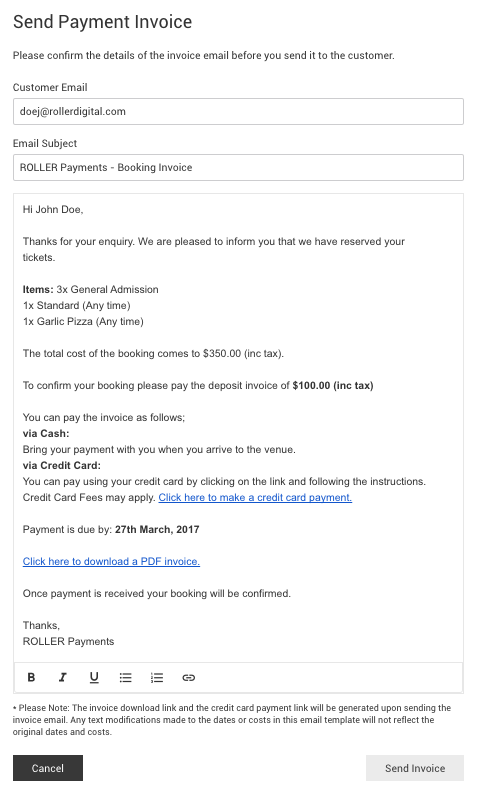 Click Send Invoice when you are ready, if they pay by Credit Card, it will automatically update the booking, if they are paying by alternative methods, it is up to the venue to update bookings that have been paid



Send Confirmation
You can Download tickets to send to your customer via your e-mail or click the hamburger icon to Send Confirmation Email directly from the ROLLER system